Case Study – WiFi & KiOSKS: Trust Housing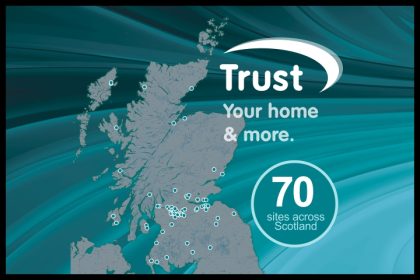 The customer
Trust is a housing association with quality and commitment at its core. They aim to provide first-class accommodation for older people, families and individuals which they can enjoy and immediately feel at home in.
Over a period of 40 years they have gained extensive experience and insights from their customers to ensure they create comfortable homes; especially for retirement communities, which support individuals and enable them to relax and enjoy independent lives, with varying degrees of support at hand.
Friendships are crucial throughout life and there are strong communities across all of their locations in Scotland, which now number over 100 and serve around 2500 customers. Trust strives to create vibrant environments, with a range of social activities on offer for customers to interact and form friendships. Trust is more than just a home, it is a way of life, a sense of belonging. Trust's tenants are from all over Scotland, with many tenants being based in very remote areas.
Trust is a not-for-profit housing association and is registered with and monitored by the Scottish Housing Regulator.
The challenge
A growing digital divide in Scotland is being driven by social inequalities. A significant number of older social housing residents are also unwilling or unable to log online, meaning their access to public services and benefits could be restricted. Trust provides housing and care and support services mainly to older people across Scotland. They are amongst the most socially isolated and lonely groups in society and they are also one of the lowest users of technology.
Research has found those who don't have internet access are less likely to have a car; to have been on a flight in the past year; to participate in hobbies; to go to the cinema, a library or live music; to volunteer; to use the services provided by Trust; to take part in outdoor leisure or recreation at least once a week; and to keep in touch with families and friends easier.
Trust believes their tenants should experience 'A Bright Future & Customer Excellence', they've promised to adapt and evolve their services to ensure they're fit for the future to exceed their customer's expectations by improving the services they offer.
"Being online will help to reduce loneliness and social isolation."

Gail Gourlay, Director of Customer Experience, Trust Housing
Assisting their tenants to become digitally connected became a priority when pressure started to mount for social housing providers to help close the digital divide, alongside this, they could see the obvious benefits of having their tenants online and how it would improve loneliness and isolation.
Some of the comments their tenants said:
"We feel we're alienated from society"
"We're getting left behind"
"We get into a terrible pickle sometimes"
"Wi-Fi would just be a great thing"
The solution
"We decided to provide Wi-Fi in all our staffed developments as we could see it would bring both social and business benefits."

Gail Gourlay, Trust Housing
In early 2016, Trust contacted Social Telecoms to find out how our products and services could help increase their levels of Digital Participation. After reviewing the situation, we suggested the pilot of our Community WiFi in some of their sheltered schemes which would bring a resilient and secure broadband connection to residents in their own homes and communal areas. To complement this connectivity, access to shared computers in the communal lounges would be provided in the form of our KiOSK terminals.
In addition to the technological merits of these two cloud-managed solutions; Social Telecoms' bid met procurement standards and compliance through their affiliation to Procurement For Housing (PfH) as the No.1 ranked supplier to the telecommunications framework.
PfH is a buying consortium for housing associations that ensures its members not only get the benefits of combined purchasing power but also that suppliers pass stringent quality and service standards. By overseeing the whole process, PfH also ensures that any agreements are fully compliant with EU procurement standards.
Community WiFi
Social Telecoms' Community WiFi is a digital inclusion product that brings affordable and flexible internet access to residents of social housing residents of sheltered schemes, apartment blocks, high-rise flats and housing estates. By designing and installing a network of wireless access points throughout Trust's sites, tenants are able to access the internet in the privacy of their own homes without being tied into a long-term contract or paying for more than they need.
Whereas various systems from other providers include greater upfront capital expenditure and annual licencing costs, Social Telecoms' Community WiFi solution is provided for a relatively low installation cost and can have an unlimited number of network locations and access points added. These would not create additional recurring licencing costs.
KiOSK Terminals
Designed specifically for registered providers, Social Telecoms KiOSK machines are ideal for sheltered scheme lounges and other communal spaces. The device is fully customisable, secure and theft-proof, and comes as a managed service package with full technical support so there is no extra burden on IT or onsite staff.
The machines will never retain end users' passwords or confidential details and is tamper-proof. The touchscreen is simple enough for anyone to use – especially for those who struggle with a keyboard and mouse. Computer novices can go straight to important services at a touch while more advanced users will appreciate the browsing feel of a tablet. Users have easy access to recommended and useful websites and online Trust services by way of the bespoke user interface designed and hosted by Social Telecoms.
With the scope of the project to provide WiFi Internet access to all of Trust's sheltered communities, Board approval for the pilot was received in early 2016. Three sites of varying size and design were selected in Edinburgh, Motherwell and Callander. WiFi coverage would be "flood filled" throughout the sites and desk-mounted KiOSK terminals would be installed in the communal lounges.
In 2017, after the enormous success of the pilot project, Trust Housing received board approval to incorporate Social Telecoms' Community WiFi and KiOSK terminal into Trust's Digital Participation Project across the rest of their sheltered housing stock. This would total an additional 67 sites across Scotland; including several in the highlands and islands. The contract would once again be provided through the PfH telecommunications framework agreement.
Trust managed to secure grant funding to cover items such as digital training, tablets and KiOSK terminals.
Tenants can now communicate with Trust Housing digitally should they choose. They will be able to report repairs, view rent accounts, make complaints, apply for housing etc. By adopting a self-service approach for those who want to communicate in this way, we have freed up front line resources and we can now direct them to where they are most required, reducing void loss and days to let." "We are supporting tenants through staff, assistance to identify appropriate training and through tenants identified as Digital Champions

Gail Gourlay, Trust Housing
The Benefits
The implementation of the Community WiFi network across the pilot sites has resulted in a dramatic increase in online access amongst the residents and visitors to the schemes. A comparison between the estimated online users at the time the pilot started and 12 months later shows an increase of 550%.
"It opens up the entire world even if you're not able to get out of your own flat." – Trust Housing Tenant 2017
"I've 'visited' my brothers in Australia." – Trust Housing Tenant 2017
"It's my own private jukebox." – Trust Housing Tenant 2017
"My son works in IT and I am enjoying learning how to use the internet just like he does. My son is impressed and has been helping and encouraging me" – Trust Housing Tenant 2017
"I am nearly 90 years old and have ignored the digital world long enough. I now feel I should give it a go and will try the training sessions so I can Skype my family in Canada and France " Airdrie
" I am finding it great, it's like looking up an encyclopedia and you can find anything you want to know. Wonderful!" Stockbridge
"I am having a great time with my IPad. Both my families have been away on holiday, daughter and husband in Lake Garda, I have been able to Skype them" Wishaw
This project has opened new opportunities for Trust Housing tenants, they can experience things they've never experienced, talk to people they've lost touch with and take up new hobbies or interests. For some tenants, it really does bring the outside world right to them, combatting loneliness and social isolation.
Not only this but tenants can now easily contact Trust Housing, view and pay rent accounts, report repairs, make a complaint or apply for housing, all from their own homes or communal areas. This has resulted in rent now being paid quicker and fewer tenants are in arrears.
"Rob and the installation team provided excellent customer service and understood the needs of our older tenants. " – Gail, Trust Housing
"It was great to be a part of Trust Housing's digital participation project. Every stakeholder involved from their ICT and Community teams to their customers has been co-operative and supportive. They continue to assist us to build the networks and services that'll meet their needs of connected, online Trust Housing communities across Scotland." – Rob Mottram, Social Telecoms
"You're never too old!" – Trust Housing tenant